MANHATTAN, NEW YORK—Actor and musician Harry Belafonte died at the age of 96 at his home in Manhattan, New York on Tuesday, April 25.
The cause of death was congestive heart failure, his spokesman told the New York Times.
Belafonte was born Harold George Bellanfanti to Jamaican parents in New York City in 1927. He spent part of his childhood living in Jamaica. He served in the U.S. Navy during WWII.
He started singing in New York City clubs at a young age and to pay for his acting classes. His breakthrough album "Calypso" was released in 1956. "Calypso" became the first LP (long play) record to sell 1 million copies within a year of its release.
"Matilda, Matilda" and "Jamaica Farewell" are two well known songs from the best selling album.
The album's lead track "Dayo" reached number 1 in the UK charts.
"By 1959 Belafonte was the most highly paid Black performer in history, with shows in Las Vegas, and well known venues such as the Greek Theatre in Los Angeles and the Palace in New York" stated The Mirror.
In 1957, he stared alongside Joan Fontaine in "Island In The Sun." The film tackles issues of slavery and race in a small unnamed island in the Caribbean.
In 1959's "Odds Against Tomorrow," Belafonte played a bank robber with a racist partner.
Belafonte was an ambassador for children's charity UNICEF. He travelled the world promoting their causes and also had an AIDs foundation.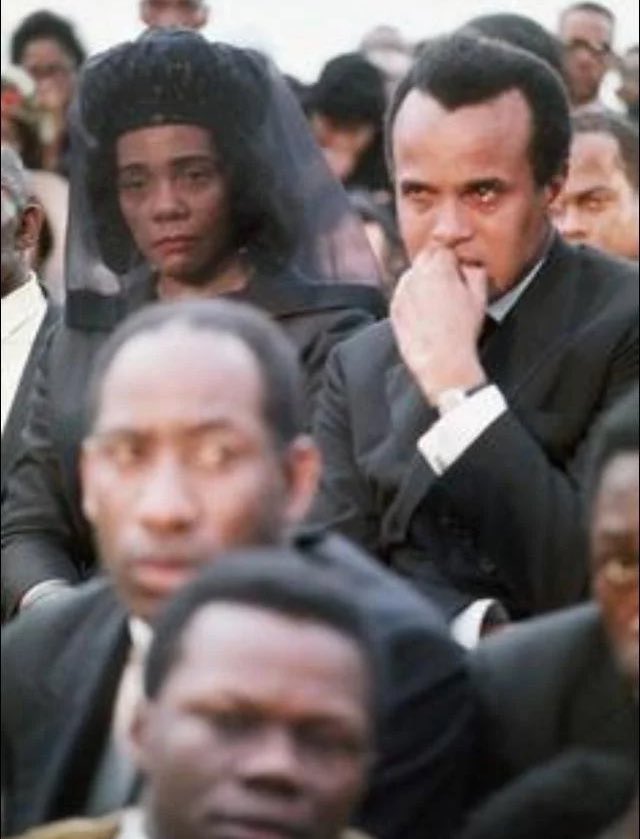 Bernice King, daughter of the late Dr. Martin Luther King tweeted. "When I was a child, #HarryBelafonte showed up for my family in very compassionate ways. In fact, he paid for the babysitter for me and my siblings. Here he is mourning with my mother at the funeral service for my father at Morehouse College. I won't forget…Rest well, sir."
Belafonte was the creator of the 1985 "We Are The World" song for Africa. He stated  "Each and every one of you has the power, the will and the capacity to make a difference in the world in which you live in," upon release of the song.
Late in his career he starred in "Bobby." An Emilio Estevez directed film about the assassination of Robert F. Kennedy. His final role came in 2018 in Spike Lee's "Blackkklansman." Belafonte played an elderly man who recounted the stories of racial inequality.
"He was mentored by Martin Luther King Jr and Paul Robeson, and bailed King out of a Birmingham, Alabama, jail in 1963 as well as co-organizing the march on Washington that culminated in King's I have a dream speech. He also funded the Freedom Riders and SNCC, activists fighting unlawful segregation in the American south, and worked on voter registration drives," stated The Guardian.
Belafonte won Grammy Awards in 1960 and 1965. In 1994, he was awarded the National Medal of Arts in the U.S. In 2014, he received an Academy Award for his humanitarian work.
Belafonte was married on three occasions and has 4 children.